At Serenata Music Studio in Chester, NJ students are empowered to become creative and confident piano players! Our multisensory approach of engaging the whole brain and body optimizes piano learning and supplies students with the tools they need to work towards their piano playing goals. Everyone is musical and at Serenata Music Studio:

Music Success Stories are Created Every Day!
Ready to create YOUR music success story?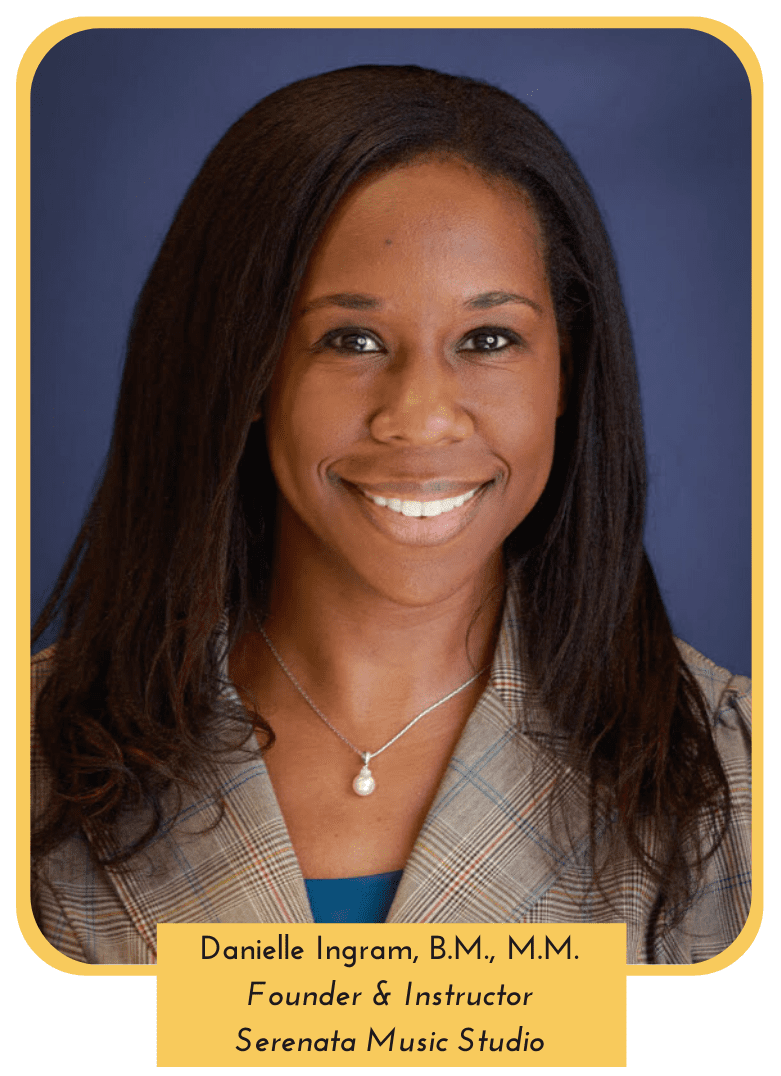 ​​Serenata Music Studio Founder & Instructor: Ms. Ingram
Ms. Danielle Ingram has shared her love of music and piano for over 20 years and finds great joy in guiding people of all ages and stages along their musical journeys. As a music teacher, she has worked with hundreds of students yet never tires of seeing the excitement in their faces as they discover the musicians within them! She has previously taught on the piano faculties of Westminster Conservatory, Trenton Community Music School, and Long Hill Music Center along with having served as a teacher and master class coach for the Westminster Middle School Piano Camp in Princeton, NJ and as a group music theory/composition teacher for the Little Falls Fine & Performing Arts Camp.
As a pianist, Ms. Ingram has performed with members of the Reading, Lancaster, and Delaware symphony orchestras and has premiered piano and chamber works of contemporary composers. She has served as a guest organist and piano accompanist for numerous churches along the east coast and has performed as a soloist in charity events and fundraisers. Ms. Ingram also had the honor of performing vocally with the prestigious Westminster Symphonic Choir, collaborating with the New York Philharmonic at Lincoln Center and the Philadelphia Orchestra at the Kimmel Center. She holds a Master of Music in Piano Performance & Pedagogy degree (graduating "with distinction") from Westminster Choir College in Princeton, NJ and a Bachelor of Music in Music Education degree from the University of Delaware. Performance excerpts featuring Ms. Ingram can be found on her personal website: www.DanielleIngramPiano.com
Dedicated to the field of music education, Ms. Ingram has served for 17 years as the Elementary General Music and Choral teacher in Little Falls, NJ. She's worked as a District Mentor to novice and established teachers, a Clinical Educator mentoring university music education students, and has presented workshops and webinars for music teacher organizations across the country. She holds credentials as a New Jersey state certified music teacher and as a certified Musikgarten (early childhood music and movement) curriculum teacher. She maintains active memberships in the Music Teachers National Association (MTNA) and the NJMTA.
When not immersed in music, Ms. Ingram enjoys reading, baking, traveling, studying Japanese language and culture, and joyfully serves on the "Kidz Church" teaching team at Calvary Assembly of God Church in Springfield, NJ.